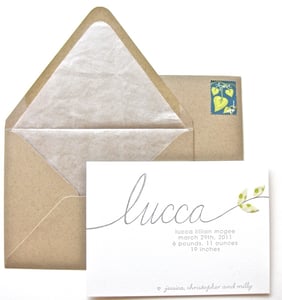 $

7.50
a customized letterpress birth announcement. each announcement has the baby's name in hand written script spanning across the width of the announcement. three hand cut fabric leaves sprout from the the end of the writing adding a touch of spring. a hand sewn fabric pocket is applied to the back of the announcement to enclose a 3x5 photo of the new baby. the baby's birth information and family greeting are added to the front in clean block typeface. each announcement is printed by hand with your color choice of ink on double ply, soft white, 100% cotton museum board.
$7.50 each is for an order of 200 pieces.
for detailed photos go to... http://bbpaperandink.blogspot.com/2011/07/birth-announcement.html
-size A6 (4 1/2 x 6 1/4)
-turnaround time is approximately 4 weeks.
-2 proofs allowed, each additional proof is $20. once the art is approved, the final proof is then sent to have a copper letterpress plate made and further changes to the text cannot be made.
please feel free to contact me if you have any questions or to submit all custom information.